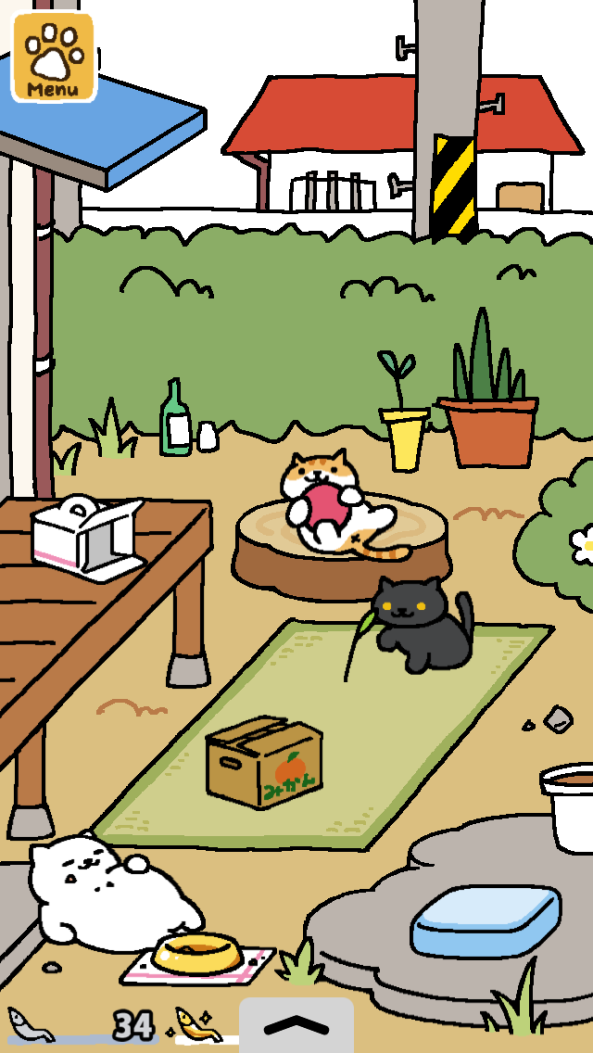 What do you do when you have two fluffy cats in real life but can't handle taking care of more?
Well, download
Neko Atsume
, of course!
The game has been around since 2014 (and updated recently in September) but I only discovered it recently while in the car with my husband's niece. She told me she was busy waiting for Tubbs (the fat white cat on the lower left) to come when I found myself watching her "yard" with interest.
She identified each cat by name, and showed me how to "attract" feline visitors to the yard.
"You can't own the cats," she said, "but you can take a picture of them." That, ladies and gentlemen, is Neko Atsume Kitty Collector as explained by a very smart 10-year old named Pia.
Cats are odd little independent creatures who prefer a coolly distant relationship with their human friends. They will wander into your yard if you have food and toys. They will stay a while and then leave with parting gifts (cats don't do that in real life unless if it's to gift you with a dead mouse).

The gold and silver fish on the lower left represent currency to buy all sorts of food and toys to attract cats to your yard. (Cue that one hit wonder, 2003 Kelis song if you still remember … My cake box brings all the cats to the yard …)
You can collect money from gifts from cats or if you buy gold fish (fancier stuff) using real money.
The next challenge (a very mild one) is finding which toys and food will attract rare and not so rare cats to your yard. In real life, though, boxes often do the trick!
These cats come in different colors and patterns as well as a variety of purrsonalities. Not sure if there's more to it than that, or if the kitty bio can help us figure out how to attract rare types.
And the photos:

The great thing about this app is that unlike other free to play games with timers and the like, where you have to constantly monitor the game for freebies, you can enjoy Neko Atsume offline. In fact, the app recommends that you suspend or reopen it to refresh and check on your yard. In other words, no need to watch it like a hawk. You can have a life outside of your phone.
Some minor inconveniences in the user interface aside, this cute game is for kids and busy people who want a fun, no strings attached kind of gaming relationship with their phone.
Happy collecting!
p.s. If you love cats, check out my cat's Facebook page – BB the ragdoll cat ?
Rating: 4.5/5
Download: Neko Atsume – Kitty Collector
Price: FREE (with in app purchases)