Word vs. Word is a challenging and unique word puzzle game with a Mastermind-like twist – it's sure to tickle your brain cells and a fun game to play with your friends.
Today's awesome review is written by Mr. Carl Agripa. You can also check out his blog: My Macintosh and Me and Ramblings. – Ed.
Want a challenging word game for your iOS device? This game is just right for you! Word vs Word is a word guessing game with a touch of Mastermind — a code breaking game played with colored pegs. You can play Word vs Word against a friend, a random opponent or you can go solo. When you start the game, the words are categorized into Easy (3 letter and 4 letter word), Medium (5 letter and 6 letter word) and Hard (7 letter and 8 letter word).
At first, I thought I'll have a difficult time knowing the rules of the game. What's great with this app is you are given Rules and Help and a Tutorial to get yourself started — all of these can be done offline. After going through the Tutorial, I tried a solo game under the Easy category (3 letter word). Instead of giving out clues to guess the word, you are the given all the letters in the alphabet. The secret word that is randomly selected won't have any double letters in it. On the other hand, the words that you use for guessing can have the same letter more than once. For example, the secret word is "net" (containing only unique letters) and the word guesses that you use to know the secret word are "egg" or "eel" ("g" and "e" are repeated more than once). Didn't I tell you this is a challenging word game? It really lives up to its category.
Word vs Word and Mastermind
As I've mentioned earlier, I think the game is inspired by a classic mini-board game Mastermind. In Mastermind, you are given colored pegs which you can use in guessing the hidden code. In Mastermind too, you are limited to the number of guesses. Compared to Word vs Word, you are given the whole alphabet to guess the secret word at hand. You also don't have a limit in guessing the word but of course it would be better if you have the least number of guesses to win against an opponent. The letters are marked in either red or green. Red marked letters are incorrect while the green marked letters are the ones to be used for determining the secret word. These markings are also displayed on the keyboard so that you do not use the red markings anymore in guessing. So far my stats are pretty decent, I was able to answer a 3 letter word after 10 guesses and a 4 letter word after 12 guesses. You can view your stats in the Game History to see how you performed.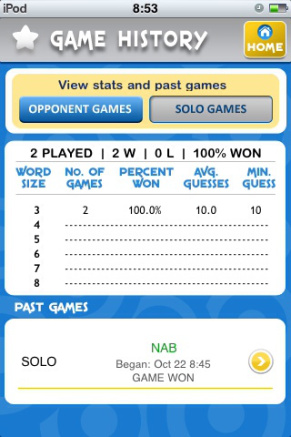 Sample game for the 3 letter word I played:
Words played Correct letters
run 1
red 0
now 1
fat 1
fin 1
nag 2
nap 2
nay 2
ban 3
nab 3 —- the secret word
This is a very addicting game especially if you play it with your friends. There are a lot of words out there so you won't get bored with this word game. appSIZED highly recommends this application so go get yourself one and begin the challenge.
App: Word vs. Word (iPhone/iPod Touch)
Price: $0.99
Copy: Provided by the developer
Developer/Publisher: Spuzzle, Inc.
Ver: 1.2
Carl in his own words:
An Apple addict, moviegoer, bookworm, photography enthusiast, rocker and blogger. These are the exact words that best describe my interests and hobbies. An Electrical Engineering graduate and programmer as a profession, this proud Iskolar ng Bayan is privileged to share with you my insights on anything about Apple — from iOS devices, Mac, it's applications and OS X. I hope you find interest in reading my articles here in AppSized as well as my personal blog My Macintosh and Me and Ramblings.