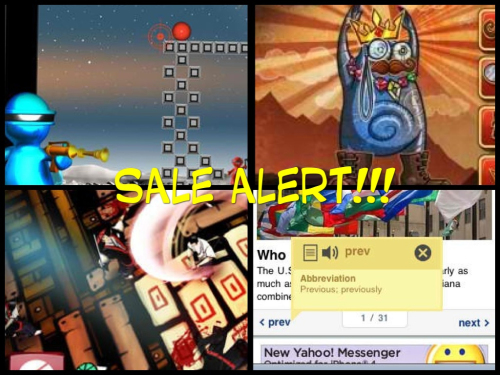 Today's apps and games on sale are a mixed bunch:
1) Shoot at Sight HD (iPad) – an interesting shooter with a puzzle element of sorts that requires logic, skill and strategy is now FREE for a limited time.
2) Kickin' Momma HD (Universal) – If you love Peggle, then this game might be worth checking out, especially while it's still $0.99.
3) Samurai: Way of the Warrior HD (iPad) – considered as one of the best hack-and-slash games on the iPhone, this bigger version is only $1.99 for a limited time.
4) Tap Dictionary (Universal) – Not many are into the default Safari web browser, but having this app will definitely be a plus. Using this app, you can look up words from within the web browser. Very handy when you're trying to learn on the fly. FREE for a limited time!
If I missed anything, please leave a message in the comments section. Happy (app) shopping!