If you are a comic book fan and a gamebook fan, then Appointment With F.E.A.R. is right up your alley. This classic gamebook written by Steve Jackson is Tin Man Games' latest outing and adapts for the iOS the mechanics of a classic gamebook with an interesting new twist.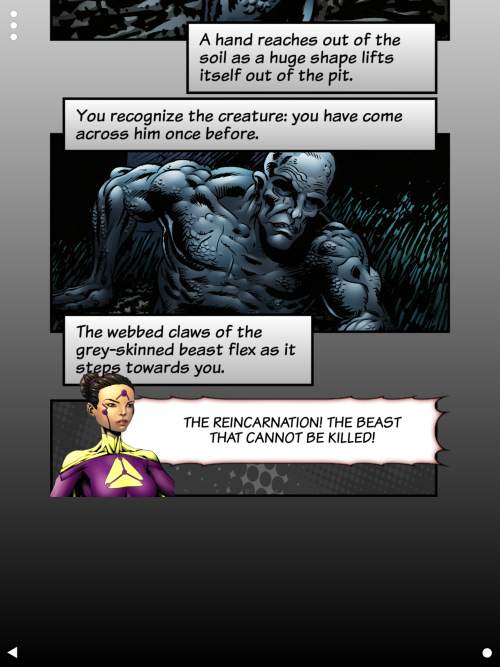 Appointment With F.E.A.R. parodies many familiar comic book heroes, villains and locales. As the main hero of Titan City, your job is to keep the city safe from an assorted lot of evildoers and thugs. Mainly, however, your mission is to prevent the meeting of F.E.A.R., a powerful organization of baddies, from taking place. Without much clues and only three days to do it, the challenge is to do the superhero stuff and be a detective at the same time. Oh, and as in typical super hero stories, your superhero identiy is a secret and you are a meek newspaper reporter by day (Clark Kent? Peter Parker?) with a mean boss.
If you've come across a gamebook previously or if you grew up reading Choose Your Own Adventure or the Fighting Fantasy series, then you would know that the big part of the experience is the fact that you make choices that affect the outcome of the story. You are not a passive reader – you are the star of the show! If you choose to become a diligent worker and prioritize work over investigating a possible crime, then that means there's a whole path you're not going down. If you choose to go to one location instead of another, there is a possibility that you will find an important clue or be misled by a red herring.
Of course, since Appointment With F.E.A.R. is a gamebook and superhero story you're playing, there's an element of combat here. You start out with a maximum stamina of 20. Based on the power you selected, you have three choices – light attack for low damage, medium attack for medium damage and heavy attack for high damage. The more difficult the attack, the bigger the likelihood of failure. Meanwhile, you also take damage, too.
The fun part of Appointment With F.E.A.R. is the fact that you can choose your superhero power and name (from a specific selection, unfortunately), and earn/lose points for your heroic deeds and puzzle solving abilities.
For each successful encounter with a villain, you also earn F.E.A.R. trading cards. These contain bite sized information about the villains you could encounter in the story.
So far, I have not been successful in stopping the meeting but it's been fun going down different paths. It's critical to gather the right clues pertaining to the meeting – guesswork and luck will not be of use here. However, I've had odd encounters with certain choices so close to discovering the details about the F.E.A.R. meeting that suddenly end up in the game restarting.
From the colorful and polished comic book style graphics and text to the appropriately campy background music, Appointment With F.E.A.R. hits all the right notes, and if you have not tried reading/playing gamebook adventures, this is one that you should pick up.
Check out the report card below:
appSIZED rating: 5 out of 5
Link: Appointment With F.E.A.R.
Compatibility: iPhone and iPad
Price: $2.99
Version: 1.0.4
Developer/Publisher: Tin Man Games
Review copy provided by Tin Man Games