Supermarket Management 2 HD from G5 games is a brand new entry to the iPad casual gaming scene. I still have the original Supermarket Management HD and while I never quite got around to finishing it, it's high on my list of time management (TM) games.
The game starts out with Kate having nightmares about her boss dying, or otherwise giving up his business. Her grandmother advises her to start her own – and as with any generic TM game storyline, her job is to make it grow.
The rather flat and plain graphics is not so HD looking and remind you that this game is a PC port from yesteryear. Set against shinier and glossier TM games,  you might find it a turn off. I don't mind so much, but I do mind that with fairly simple graphics, the game takes ages to load.
However, if you are after the gameplay, Supermarket Management 2 HD is hard to disappoint even for a hard core TM gamer such as myself. In spirit, it's closer to the Sally's Spa sub genre of TM games which focuses on mini games and very similar to Supermarket Mania 2 (read the review).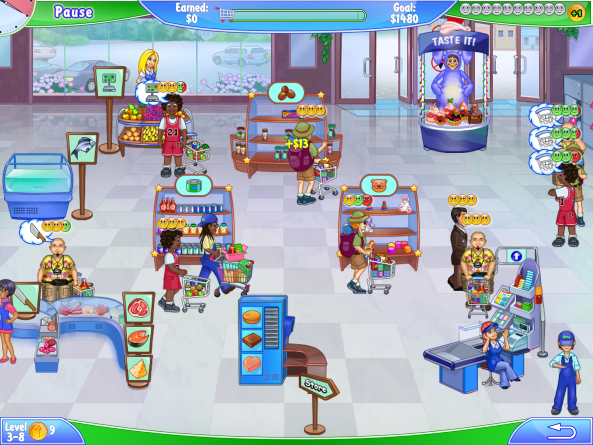 In a supermarket setting for a TM game, you start out with the basic goal of keeping the shelves well-stocked and assisting shoppers with their needs – sending out trolleys, weighing fruits and meat, etc. Of course, contrary to real life, your first few levels is all about multitasking all by your lonesome, including manning the cash register! Your hard earned cash at the end of the level is used to purchase upgrades – bigger shelves that don't need not be restocked that often, an extra trolley, or a candy machine by the cash register to increase profits.
Eventually, you can hire assistants to take some of the load off, but by these time, your stations have become more complex through mini-games (slicing up fish and meat, decorating pastries, catching fish, etc.).  You can plan your actions in advance, which is indicated by a number on the stations you select, and you can cancel your queue if there is something important to attend to, such as an irate customer. One other challenge that I like is earning more coins by keeping your customers happy. Mid-way into the game, I have not had customers walk out on me yet but I do regret testing their patience and earning less smilies (and consequently, less coins).
Supermarket Management 2 HD as I said earlier, is full of mini-games: eight (8) according to the app description. Mini-games range from simple tasks like finding the right product that will make your customer happy and putting together a dish (see above), to games that require some skills and coordination, such as catching fast moving fish, or pressing the nozzle in time to decorate your pastry. The problem I have with the mini-games (similar to Sally's Spa) is that when you are running a sequence comprised of mini-games, it's hard to perform other tasks. For example, if you are currently slicing up fish and weighing fruits for your next task, and all of a sudden, a customer needs help and must be moved to the right station, you need to be very careful in doing this in-between mini games because if you don't do it correctly, you will mess up your mini-game.
Hardcore TM fans have one goal in mind – Expert level all the way, and it's not hard to exceed even the required earnings to earn top marks. If you are patient and focused, you won't need to fork over real $$$ to purchase upgrades in order to beat a level.
All told, Supermarket Management 2 HD is a fun romp and a much needed addition to TM games in the App Store. The price tag might be a bit steep for the fairly simple look and design (although retina display quality), but if you are craving for some TM action, then this might be the fix that you need.
App: Supermarket Management 2 HD
Rating: 4 out of 5
Price: FREE ($6.99 to unlock the full game)
IAP: Yes, but not necessary
Compatibility: iPad running 3.2 and up
Publisher/Developer: G5 Entertainment