Fieldrunners (iPhone) is a tower defense game that combines cute cartooony runners, vehicles and flying objects with serious looking towers that lob plasma, bullets and shoot electricity. Long before the tower defense (TD) genre spawned hundreds of copycats as much as it has some original concepts going, Fieldrunners for the iPhone was the definitive game of the tower defense genre and iOS app development. Tower defense games have multiplied exponentially since then, from cute themed games to hardcore action.
Meanwhile, Fieldrunners for iPad ($7.99) came out in 2011 – meaning indie developer Subatomic Studios took their sweet time to port the iPhone version to a bigger screen. Fieldrunners 2 HD ($7.99) on the other hand, launched to great success late this year, and is retina-display ready.
With a daunting pricetag and tons of TD games to choose from, should you make space for your iPad for Fieldrunners for iPad or Fieldrunners 2 HD?
Let me first state for the record that Fieldrunners for iPad is still due for an update – crashing and other bugs are hindering an otherwise stellar gaming experience. Add to that the game does not support the iPad's fantastic retina display. However, Subatomic Studios has promised an update soon, which hopefully includes the graphics as well. Standalone, Fieldrunners for iPad is just as familiar as the original iPhone version to anyone who's played it.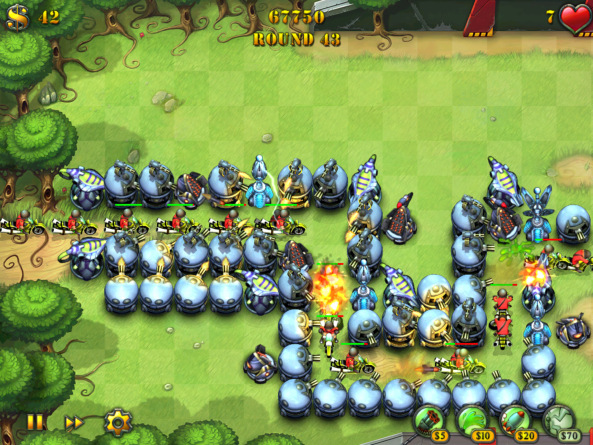 A standout feature of Fieldrunners for iPad  is that it is not a fixed path type of game – meaning, you have a vast expanse to put your towers wherever you want and design an efficient strategy to last  you a hundred rounds or so. You have to take into account the behavior of your 'runners' – putting towers in a certain place directs their movement, and if you're not careful, they will ingeniously wander down a path outside of what you painstakingly created. On top of that, you need to earn enough cash to upgrade your towers and decide where you want to place certain towers accordingly. If you're not careful, you willl lose your 'lives' thanks to a maddening march of runners that got away. There are three maps and your standard towers. The standard game already feels endless (because I have yet to survive a regular level) but there's an endless mode, too.
Fieldrunners for iPad  on some level may be viewed as too 'hardcore' for the casual gamer since it sucks away a lot of your free time, requiring more strategy and thought into your layout and tower placement. With this in mind, Fieldrunners 2 HD attempts to strike a balance between maintaining its core gameplay while luring more novice/casual gamers to the fold.
Apart from more kinds of towers and power-ups, Fieldrunners 2 HD is a significant departure from Fieldrunners for iPad  in terms of gameplay. Fieldrunners 2 HD offers shorter play time – the regular game mode has less than 100 rounds to survive (and thankfully, tells you how many rounds you have left unlike Fieldrunners for iPad), and instead of free range tower placement, has a fixed path. The fixed path here is not like what you usually see in TD games. There are twists in the gameplay and the maps that involve creating loops and leading your runners under bridges. There are "puzzle" levels where you need to place your towers in certain spots to direct the runners to pass through laser towers, for example. These puzzles are genuinely head scratching and may even be downright frustrating for more casual gamers.
I miss the free form maps, though, and since I'm stuck in the puzzle levels, I'm not sure if they are waiting to be unlocked further in the game or will be added as future updates.
Another problem I have is the in-game tips which are dire to understanding how to make loops, and other complex formations. They're shown once but I have not found a way to load or play them again. I do appreciate the general tutorial which is pretty much anything goes without holding your hand too much. You get to play a "real" level according to your strategy and the tutorial is basically in the background. However, for more complex strategy, I hope that the devs consider keeping the "tips" in. (Oh, and there's a lot more wit and humor in Fieldrunners 2 HD with the tips and side comments in between games)
One more thing. Subatomic Studio's controversial decision to offer in-app purchase (IAP) to be able to buy towers and unlock them has got some gamers up in arms. A discussion on the IAP business model merits a whole different post altogether, but if you're wondering if you need to spend extra $$$ on top of the $7.99 you have to shell out if you want Fieldrunners 2 HD, the developers have assured fans that the IAP does not affect gameplay such that you have to buy extra game currency for it. According to the devs, it was persistent fan requests that persuaded them to offer IAP. After checking my Fieldrunners 2 HD, I don't see the IAP option yet, but it is definitely coming.
There's a whole other debate why Subatomic Studio came out with separate versions of Fieldrunners 2 for iPhone and iPad, considering that many games go universal. This question and many others will hopefully be addressed in an interview by appSIZED with the devs which shall be soon be published.
One more thing, loading times on Fieldrunners 2 HD is a bit slow. Of course, looking at the gorgeous graphics and considering the limitations of RAM in the iPad, the waiting time is understandable. The devs have likewise included in their latest update shortened loading times but I still find them a bit too long.
Verdict
Pending a much needed update, I suggest that you skip Fieldrunners for iPad, for now. A month or so ago, I in fact emailed Subatomic Studios to complain about the buggy Fieldrunners for iPad which I bought on sale which was last updated in 2011. They assured me that Fieldrunners for iPad will be updated soon, and I believe them. I suggest you wait for it before buying.
However, I highly recommend that you plunk down some cash for Fieldrunners 2 HD. If there's anything that Subatomic Studios proved with Fieldrunners 2 HD, it's that when it comes to tower defense games, Fieldrunners is still the tower defense game of the genre.