Supermarket Mania may be a lesser known time management (TM) game, but it does bring something new to the table that is different from your usual Dash type of game. Read on to learn more about its shinier sequel, Supermarket Mania 2 HD (Full).
The basic mechanics of Supermarket Mania are fairly simple and gradually build up into management mayhem. You start with stocking and refilling the supermarket shelves. Sounds simple so far? Well, stocking and refilling is just one aspect of your regular 'day.' You also need to keep an eye on your store's cleanliness level, otherwise, customers may slip and hurt themselves from the dirt and debris piling up. At the same time, new customers wait in line for their shopping baskets and if there aren't enough free ones, you'll soon have an angry mob on your hands.
To a certain extent, customer preference affects what seem to be 'routine' stocking and filling since some items are restocked more frequently than others, depending on the kind of customers that walk into your store. For example, the single guys tend to load up on meat while elderly customers buy a lot of milk and fruits. Later on, you need to provide food and beverages that need machines and certain ingredients from your wares, such as fruits. Meanwhile, you have to keep an eye on rowdy kids, thieves and thugs that wander in and dirty the floors, wreck machines and generally disrupt the general peace.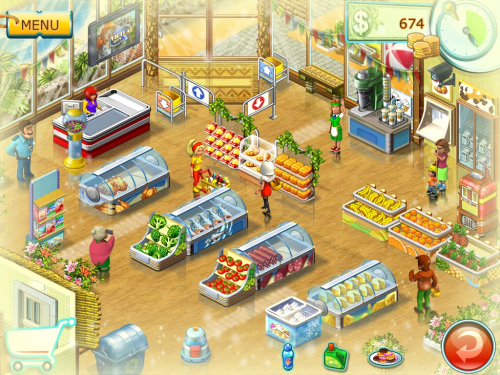 Supermarket Mania 2 builds on the original gameplay but makes it more fun and challenging. You have more or less the same upgrades and power-ups to expect, and the same cast of characters. However, the graphics are shinier and prettier, the controls are tighter and overall, the game still feels fresh and fun. I also like the sound effects and background music, which are cheery and energetic and contributing to a sense of urgency.
Strategy-wise, you need to plan ahead when choosing which shelves to re-stock, especially when you have a lot of customers demanding coffee, milkshakes, and all the other stuff that you need to assemble. Of course, it depends on your goals. If you just want to pass the level, then you'll find that meeting the basic goal is doable. However, if you are aiming for an excellent/expert score every level, then you'll find the prospect quite challenging.
Currently I am replaying a level because I am unable tor each expert scores – a huge challenge for a TM aficionado such as myself! Thus, I tip my hat to the devs for making this particular TM game more challenging than usual. Of course, aspiring to unlock all the achievements is yet another incentive.
TM newbies and fans alike will find Supermarket Mania 2 HD a great TM fix. The price might be a bit on the steep side, but most Diner Dash games cost about the same and offer the same content, such as 50 levels. Supermarket Mania 2 HD has gorgeous art, content that's a little different from your usual salon or cafe, and an experience quite challenging for the avid casual gamer.
Price: $6.99
Copy: Provided by the developer/publisher
Developer/Publisher: G5 Entertainment
Ver: 1.4
Rating: 5 out of 5